So it's almost four-thirty pm on Tuesday, and I am ONLY just now recovering from the excitement of my Tarheels winning last night. Even though we had a good lead for much of the game, I was still on the edge of my seat, as I have seen us blow big leads and lose before (this season, even). Luckily, though, last night we held on. When the game was over, I jumped up and down, watched a few minutes of people flooding onto Franklin Street on the news (and hoped my babysitters were not jumping any bonfires) then collapsed into bed just after midnight. This morning, it all seemed like a dream. But it wasn't!
So….yeah. No more basketball. Now what? I guess the Tour, but really, it's just not the same. Oh, right, I DO have a book coming out. That ought to keep me busy for a little while.
(One final basketball note: to the person who left the comment saying that Tyler Hansborough looks an AWFUL lot like J.D. McCoy on Friday Night Lights, I totally agree! I was just thinking the same thing the other night. It's almost eerie, look. Here's Tyler:


Here's JD (aka Jeremy Sumpter)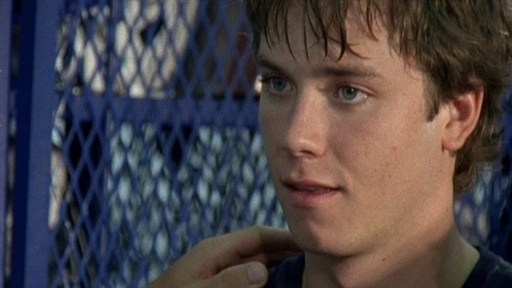 Crazy, right?)
In other TV news, I know I was not the only one BLOWN away by House the other night. Now, if you DIDN'T watch it yet, stop reading this now. Seriously. STOP.
Okay?
(space just to be safe)
So Kutner, OH MY GOD! My husband and I were so surprised by his suicide that we kept looking at each other, agog. (Yes! We were agog!) I kept thinking it was a dream, or a joke, but no. Apparently Kal Penn, who played Kutner, has accepted a job in the Obama administration. SERIOUSLY! I remember when he came here campaigning, and apparently he's always been interested in a job in politics. But whoa. And also, wow. What a way to go. I am still reeling. Even so, this memorial site Fox put up for him is just plain creepy. Maybe it's just me, but it just gives me the willies for some reason. (Yes! The willies!)
Finally, tomorrow I'm doing some publicity stuff for Along for the Ride, and you know what that means. I have to Clean Up and Look Like An Author, which is not easy these days. There was a time when knowing I was going to be filmed would have prompted me to schedule a haircut, buy new makeup and a new outfit, work out extra hard and rest up. These days, I'm just hoping I can find something clean to wear and cover the circles under my eyes. But it's okay, because it's not really about me, or at least it shouldn't be. It's about the book. But still, it would be nice to fit in an eyebrow wax somehow. Sigh.