I'm interrupting my normal blogging schedule to share with you the single best thing I have seen all freaking day. Maybe all freaking week.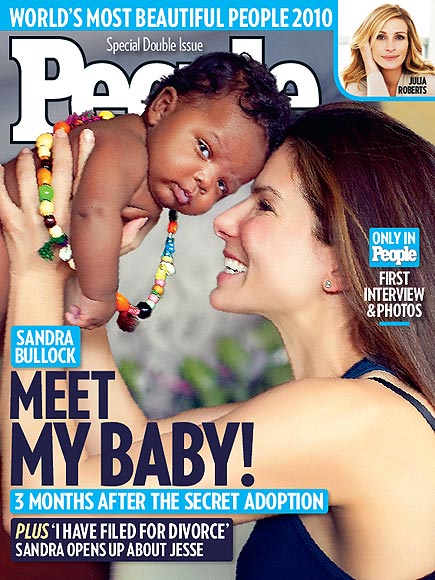 I mean, come on! If that doesn't give you hope that even in the worst of times there is a glimmer, an open window, whatever you want to believe in specifically, I don't know what does. Look at that baby's face! It's so serene, like, don't worry. We're okay. Oh, my god, I can't even look at it without getting choked up. And no, I'm not hormonal. Just a total sap who probably cares just a little too much about Sandra Bullock.
I mean, look at those chubby cheeks! Here we've (okay, I) have been a nervous wreck, wondering how on earth she's handling all this fallout from her imploding marriage, mistresses crawling out of the woodwork, public humiliation, etc. She must be at home just in a shame spiral. But NO! She's at home with a baby, probably so immersed in burping and feeding and trying to get enough sleep that all of this is just…well, not as important. Oh, I just can't tell you what this did for my mood today. Well, maybe I just did.
All right, back to the usual chaos. Okay, maybe after I look at that baby's face and Sandra's ONE more time. Or maybe two….